Ania Grodzka wystapila w reklamie rajstop firmy Adrian. Przedsiebiorstwo to znane jest z kontrowersyjnych reklam rajstop. Poprzednai reklama rowniez kula w oczy Polakow. Tych prawdziwych to juz wogole! Bo nie dosc, ze kobieta z reklamy oparta byla o nagrobek to jeszcze cytowano ks. Twardowskiego.
tu pierwsza kontrowersyjna reklama tych samych rajstop
Ciocia zapowiada. jak nigdy nie reklamuje to firma Adrian jest najbardziej odpowiedzialna marka w spoko koko kraju. Tak trzymac.
Poprzez Swiat leca wiesci o kampaniach nienawisci w Polsce tymczasem w Szkocji. Kezia Dugdale dokonala comming outu. Nie byloby to nic dziwnego dla ludnosci ale Kezia jest przywodczynia Scottish Labor Party. Jak sama Dugdale przyznaje, jest po slubie ze swoja femal partner a dopiero wyjawila, ze ma w ogole femmale partner. Partner to partner. Jakiez to zbawienie od angielskiego jezyka, ze forma ta jest ta sama dla rodzaju meskiego i zenskiego. A ze femmale, to jest pryzwatna sprawa i nie nalezy laczyc ja z polityka. Nikt nikogo nie ma jezykach. Nie dziwi sie, nie dopatruje zboczenia itp.
Wyznania Kezi pogratulowala Ruth Davidson, czlonkini Scottish Conservative Party and Unionist Party oraz Czlonkini Szkockiego Parlamentu.
Ruth takze w zwiazku homoseksualnym. I szczesliwa ...konserwatystka.
Mozna, mozna! W spoko koko kraju odezwalyby sie glosy o homolobby w parlamencie. Tak to jest i prawda i choc za programem partyjnym ani Ruth ani Kezi nie przepadam to szczerze gratuluje zycia szczesliwej lesbijki- parlamentarzystki.
Coming outy, coming outami ale nasza Pani Premier Nicola Sturgeon uchwalil, ze jesli wygra wybory to zniesie wpisywanie plci w aktach urodzenia. Ustawa o obojnictwu. I tu zniow nikt nie gani, ze wstretny tylko kosciol szkocki jak zwykle ma anse. Potwor dzender wdziera sie do domostw, parlamentow, kosciolow i bruzd klechow. Szacuje sie, ze 10 tysiecy Szkotow jest transeksualistami, to znaczy, ze nie identyfikuja sie z plcia jaka maja wpisana w dokumentach. Zreszta doczytajcie sie sami. jesli macie taka ochote. Najwazniejsze, ze projekty uchwaly maja zgode wszystkich liderek partyjnych zasiadajacych w szkockim parlamencie.
http://www.theguardian.com/politics/2016/apr/05/tartan-rainbow-why-great-to-be-gay-in-scotland-lgbt-rights-kezia-dugdale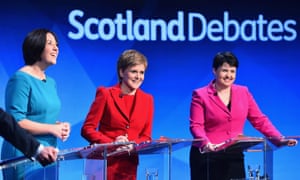 From left, Scottish Labour's Kezia Dugdale, SNP leader Nicola Sturgeon and Ruth Davidson of the Scottish Conservatives at the STV election debate. Photograph: Jeff J Mitchell/Getty
S
cottish adults and children could be allowed to legally change their gender without any medical diagnosis or treatment and decide they are neither men nor women, under an overhaul of the law promised by Nicola Sturgeon.
The First Minister said that one of her top priorities if she wins May's Holyrood elections will be to review Scotland's gender recognition laws to ensure they are in line with "international best practice".
Campaigners said this would mean allowing Scots to change the gender on their birth certificate using a simple self-declaration that they consider themselves to be of the opposite sex. Children under 16 would also be allowed to do this but would require the permission of their parents.
In addition, the law would recognise that some people have a "non-binary gender", meaning they would legally be neither men nor a woman and could change documents such as birth and marriage certificates and passports to reflect that.
M

s Sturgeon also announced plans to make sure all children were taught about tolerance to lesbian, gay, bisexual, trans and inter-sex (LGBTI) people "throughout early years, primary and secondary education". But the Free Church of Scotland the "SNP are now seeking to destroy the traditional idea of gender" and warned it would result in "confusion and brokenness amongst our children."
It is estimated there are more than 10,000 people in Scotland are transgender, which means their gender identity is not the same as their assigned sex. They do not need to have undergone any surgery or to have taken any drugs to change their bodies to be classified as such.
If they want to legally change their sex, currently they have to undergo detailed psychiatric tests to confirm they have been diagnosed with "gender dysphoria" and an assessment has to be made of how that diagnosis was determined and of any treatment they received.
M

s Sturgeon told a LGBTI election hustings with Holyrood's five party leaders in Edinburgh "it was time" for a review of gender identity law.
The First Minister said "greater recognition and greater protection" was needed for people who do not identify as a man or a woman. She added: "That, I think, has got to be one of the priorities of the next parliament."
Ms Sturgeon said she wanted non-binary gender to be legally recognised by 2021, saying: "It think it's no longer in this day and age appropriate for people not to have their perfectly legitimate identity recognised legally."
Outlining the SNP's equality pledges ahead of the event, she said: "Enabling young people to make informed choices about their gender and sexual identity is about supporting them to be themselves so that they might fulfil their potential.
"I am hopeful that in the next Scottish Parliament, we can build as much consensus on LGBTI issues as we did in this session – and take another leap forward for equality."
As well as children being taught to respect LGBTI people from their earliest education, she said "every professional working with children" would be trained on equality to prevent bullying and help child development.
K

ezia Dugdale, the Scottish Labour leader, told the hustings an overhaul of gender recognition laws would be also be included in her party's election manifesto.
Ruth Davidson, the Scottish Tory leader, said she had "no philosophical objection" to a new category of gender being created on British passports, saying; "Let's do it."
But Rev David Robertson, Moderator of the Free Church of Scotland, said: "We ask does Nicola Sturgeon and her Government now accept that there are not two genders, male and female, but many genders?
"Not content with the destruction of the traditional Christian ideas of sexuality and marriage, it appears as though the SNP are now seeking to destroy the traditional idea of gender."
He added: "The SNP seem to be working on the unproven and somewhat bizarre notion that children get to choose their own gender and sexuality. We believe that this will result in confusion and brokenness amongst our children rather than fulfilled potential."
J

ames Morton, manager of the Scottish Transgender Alliance, said the group was "very pleased" with the review. He said: "That would mean enabling people to change the gender on their birth certificate without intrusive medical diagnosis, recognising trans people as the experts on their own identities.
"It would allow young people to legally change their gender, with parents' support if under 16. It would also mean the law recognising that some people have a non-binary gender, that is they are neither men nor women."
He said countries such as Australia, New Zealand and India already allow gender-neutral birth certificates and passports, with the letter 'X' in the box next to the gender field instead of 'M' or 'F'.